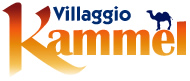 Villaggio Kammel
Viale Magna Grecia - 75010 Metaponto Lido (MT)

Phone: 0835 741926 - 0835 741927
Fax: 0835 745585 - 0835 335041 (invernale)

E-mail: kammel@kammel.it

It's the the tourist core of society

SISTEL s.r.l.
Via dei Mestieri - 75100 Matera
Partita I.V.A. 00218250777

Phone: 0835 330298 - 0835 335041


Through this website you can book all the services offered by Metaponto Kammel Village.

Privacy

In compliance with the italian Law 196/2009 dispositions, we inform you that personal data introduced in the modules of this site will be used for indoor activities. By sending the form, you authorize Sistel S.r.l. to treat your data to get an efficient management of transactions, market research and commercial communication. According to the art.7 of the italian law 196/2003, at any time, the user has the right to ask the person in charge about the treatment of his data, the purposes and conditions, about the logic applied to them, i.e. their updating, data modification and integration.
The holder of data treatment is SISTEL S.r.l. office situated in Via dei Mestieri - 75100 Matera.